The 2013 NBA Draft is already shaping up to be a historic one for Canadian basketball. If everything goes as it should, Canada will, for the first time ever see three Canadian basketball players se...
Below is a list of the 27 players that will make up Canada Basketball's 2012 Senior Men's Basketball Training Camp Roster. The list features six NBA players, 13 NCAA standouts three current playing...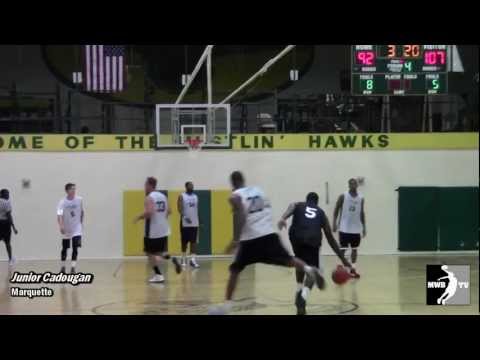 Former Marquette Golden Eagles point guard Junior Cadougan (Toronto, ON) set a new Milwaukee Pro-Am scoring record by scoring 72 points. Cadougan scored in a variety of ways, connecting on multiple...
Junior Cadougan is it without a doubt the Golden Eagles General Floor leader. Cadougan ranked fifth in the league in assists (5.5) and takes pride in delivering the ball to Johnson-Odom, Crowder a...
No. 10 Marquette shook off the suspension of four players for half the game and a 15-point West Virginia lead early in the second half to win its 12th game in the last 13, beating the Mountaineers 61-...
Kentucky's Kyle Wiltjer had his finest performance of the season pouring in a career-high 24 points in 25 minutes off the pine. Kevin Pangos continued his stellar play and notched 23 points on 6-of...
Toronto's Junior Cadougan missed the Golden Eagles Saturday game against the Wisconsin Badgers for violating team rules. Cadougan, in his final season has been an important piece to the Golden Eagl...
If you don't play hard for Marquette Golden Eagles coach Buzz Williams, you simply don't play. It's a lesson that took some time for Junior Cadougan to learn. But now that the sophomore has, he's c...