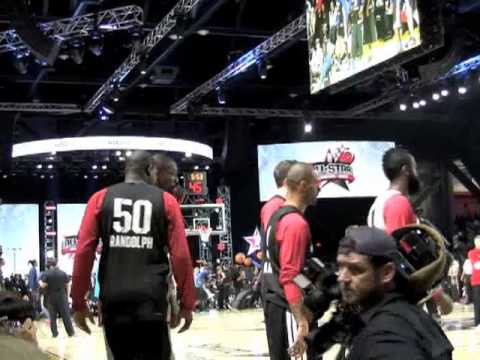 My camera, mic, tripod and made it to NBA All-Star weekend!!! It was an experience of a lifetime which was challenging yet extremely rewarding. The life of being a short girl had me kneeling on podium...
Where you at? The whole city behind them! By Tim David Harvey The Chicago Bulls are the untouchables. The star gangs of the East may make the headlines like Al Capone, but the by the book-like E...
Days ago rumors ignited regarding to Carmelo Anthony leaning towards leaving the Denver Nuggets after the upcoming 2010 season. ESPN reported that Melo's top destination once he becomes an unres...
See, BiE secretly knew this would happen … you break down, make a few fearless predictions online and bam! The inconvenient fact of a loss – two losses in fact, one particularly egregious – ...
Keep in mind grading scales are for what teams accomplished individually. Some teams may have made very minor moves that fit their system perfectly while other teams may have made overpaid major moves...
August is here and it's full speed ahead for the 2010 FIBA World Championship in Turkey later this month. In coming weeks, we'll be seeing the national teams competing in the tournament playing wa...
The Chicago Bulls headed into this offseason with the intentions of revamping their roster and providing their city with a team that could compete for an NBA championship. The Bulls first dealt po...
See you in Atlanta -- i mean, Oklahoma City -- Tibor! While there may be a dearth of European rookies actually cracking NBA squads in 2009-10, at least the rights to a quartet of promising Continental...
The NBA Draft is a night for budding prospects to finally realize their lifelong dreams – you'd think they'd be dressed appropriately. But as you're about to see, perhaps the future collective bargain...